The driver's window was down long before he stopped next to me, so I rolled mine down. Clearly, he wanted to talk, but the driver stared at me a few seconds first. Then his eyebrows raised, but his face otherwise remained deadpan. Over the clatter of his diesel, finally: "Holy s–t."
It was a common sentiment, if not always so eloquent. In a land where "Super Jeeps" like his—all 40-plus-inch tires and snaking snorkels up the windshield pillars—are a common sight, my Lamborghini Urus attracted as much attention as Ed Sheeran, who'd recently added a second night to his debut Icelandic performance due to popular demand (fun fact: Iceland has half the population of Vermont).
That it was, as far as I could tell, the only yellow vehicle on the island certainly contributed.
For an automaker looking to make a splash in the frigid North Atlantic, that's reason enough for us to be here. Being the first X to do Y always gets attention, and Lamborghinis are all about attention. In a place where sports cars are nonexistent and luxury cars appear to be outnumbered by American heavy-duty pickups (seriously), the locals took up a nationwide game of "spot the Lamborghini" on Snapchat.
Posted in

Automotive, MotorTrend
Comments Off

on 2019 Lamborghini Urus Review (W/Video): The Age of Exploration
Quick Stats: Steve Darnell, Discovery's "Vegas Rat Rods"
Daily Driver: 1957 Chevy 210 (Steve's rating: 10 on a scale of 1 to 10)
Other cars: See below
Favorite road trip: Vegas to Pomona
Car he learned to drive in: Old Ford and Chevy truck
First car bought: 1973 Datsun
A 1928 Dodge from his late grandfather started it all for Steve Darnell of Vegas Rat Rods.
"He was a World War II vet, he was a bad-ass, and he was the nicest guy on the planet. I rebuilt the car and I called it 'The Destroyer' because he was on a destroyer battleship and he did nine battles and he lived through two or three typhoons. I feel like such a wuss compared to what he went through as a young man at 22 years old."
Inspired by his grandfather, Darnell dedicated the rat rod to him. "He was a pretty amazing guy, there's a lot about him here at WelderUp and my life," he says.
Even though Darnell has built many cars since then, the Destroyer remains WelderUp's mascot. "It sits in my showroom and we have a lot of people who come to Vegas and … want to see that car," he says.
This rat rod, a perfect 10 in Darnell's eyes, epitomizes the world of fabricators and welders who want to channel their creativity into something automotive. Darnell says he's built fantasy cars for professionals including doctors who drive Porsches during the day, but these rat rods induce a different effect.
"They jump in the front seat of this thing, and it just changes their whole way. They want to go out and do burnouts and piss people off a little bit, be somebody different for a minute," he says. "And a lot of these are people going back in time of like, 'Dude, my grandpa had one like that.' We're building out now an inspiration for all these kids and their dads. They're all out building cars in their garages because of this TV show. I hear it every day, 'You've inspired me and my kid to build a rat rod.' We're bringing families together, they're out in the garage and they're building stuff and it goes from something that looks like you're a bad-ass to where it's actually a family thing."
Besides the WelderUp mascot car, Darnell has a few other favorites in his garage of about 30 cars, such as his 1957 Chevy 210.
1957 Chevy 210
Rating: 10
"What I like about it, is it's drivable, it's got a fuel injected motor in it. It's turbocharged, it makes about 740 horses, it's no joke," Darnell says. "What I like about it is I can pull up next to somebody and they're in their brand-new Camaro and Mustang and I [can smoke them]. That's what makes it fun. It's a sleeper."
1968 Dodge Charger
Rating: 10
"I love it. It's got a diesel engine in it, which doesn't belong in the car, two superchargers, two turbos on it, sticking right through the hood, and the car is just insane," he says about the Charger, which was built for a music video.
1930 Ford Model A sedan
Rating: 20
This Ford is like WelderUp's own Trevi Fountain, drawing fans in for what it stands for, and a place they can toss coins for good wishes.
"My general manager, his little boy had cancer and I decided to do it right in the middle of our filming season the year before this one. We stopped the shop and I said, 'I want to build a car about cancer.' I built a car that literally looks like it has cancer in the front of the car and it just goes through the car, it'll come out to being brand new," Darnell says.
That's a car Darnell had to set aside in its own area. "We're like a family, so when you have a little boy who barely can talk, already dealing with this, it was a lot to go through as I built the car," he says.
On a scale of 10, Darnell rates it off the charts with a 20, commenting on how each one motivates him in a different way.
"Every time I build one, I have to go into that place and live it. They're all different to me. The motivation for most of my builds are something positive,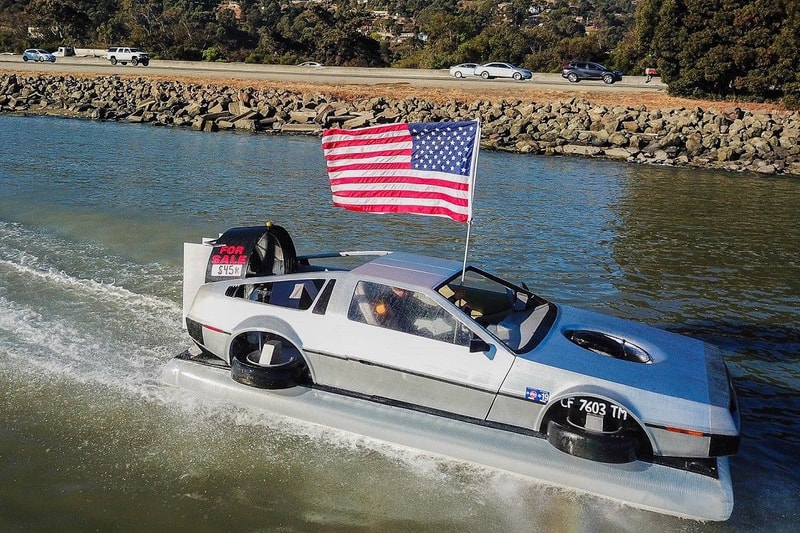 A special hovercraft that resembles the iconic Delorean car has just listed on eBay. What started out as a passion project for owner Matt Riese in 2008 has since turned-into local monument, appearing on numerous blogs, newspapers and TV shows in San Francisco.
Inspired by the character Doc Brown from the Back to the Future trilogy, Riese spent years perfecting the watercraft, working odd jobs to fund the ambitious project; he even put his project on Kickstarter where it garnered close to $6K USD in backing. While the Delorean hovercraft is not actually made from the chassis of the real car, the styrofoam/fiberglass vehicle does sport some noteworthy modifications including a 36-inch thrust fan that's powered by a 23hp Briggs & Stratton Vanguard motor, a 24-inch lift fan, an optional windscreen, and gull-wing doors. The majority of the build is based off Universal Hovercraft's UH-13PT design, and can support up to 325lbs while traveling at a top speed of 31 mph.
The listing goes on to let bidders know that the Delorean hovercraft has just been completely overhauled, and is for sale at a price of $45,000 USD OBO. Another point worth mentioning is that 10% of the sale will go directly to The Michael J. Fox Foundation, funding the research in finding a cure for Parkinson's disease. Watch the video below to see the Delorean hovercraft in action.
In other automotive news new, watch the Dubai police's new hoverbike in action.
Click here to view full gallery at HYPEBEAST
Kia has released its second teaser for the next-generation Soul before it debuts at the Los Angeles auto show later this month.
The new teaser reveals a much more polished headlight design for the 2020 Kia Soul. The lights are narrower and integrate more naturally into the grille. Kia is also showing off a striking white and red paint job.
Just yesterday, Kia teased the Soul's rear end. It keeps its boxy shape, as well as the vertical-oriented taillamps. But it adopts a new floating roof that incorporates a "Soul" badge.
It's likely the new Soul will adopt the same platform as the Hyundai Kona. If so, it could share the same 1.6-liter and 2.0-liter engine options. Kia hasn't confirmed specs, but says it will offer "several drivetrains," including turbocharged and electric versions.
The 2020 Soul is a bit overdue for a full redesign, considering the previous generation debuted for the 2014 model year. The design of the second-generation model didn't change radically from the first generation, but this third model looks like it could shake up that trend. Judging from the new headlights, we're thinking the change will be for the better.
The post 2020 Kia Soul Getting Sleek New Headlights appeared first on Automobile Magazine.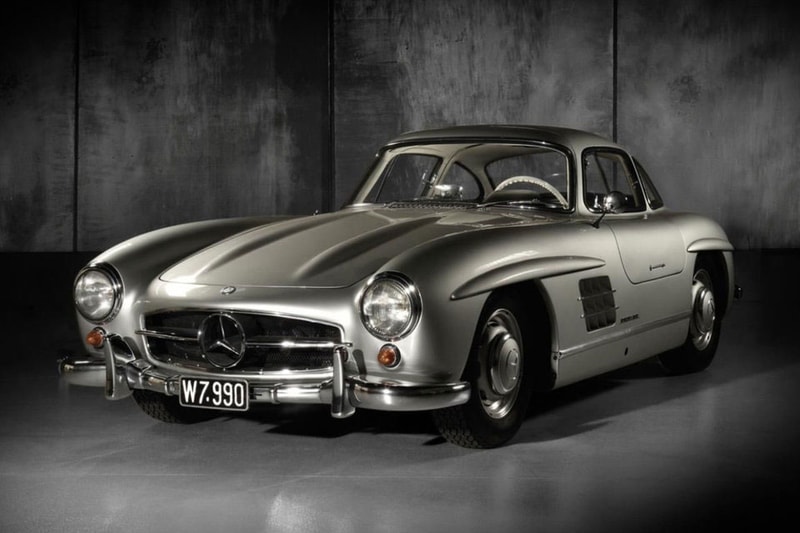 A Mercedes-Benz 300 SL Gullwing from 1955 with a classic silver grey exterior is now up for auction. Known for its distinctive gull-wing doors and direct fuel injection, the postwar model was the fastest production car of its day and the first iteration of the SL-Class grand tourer.
This 300 SL was first owned by Ambie Collins in New York before making its way across the Atlantic in 1979 to join the Wiesenthal Collection in Vienna. The car still has its W-7990 number plate issued on February 28, 1979, making it likely to be one of the last Gullwings in the country with a black plate. The model was fully restored in the early-'90s with thorough documentation, replacing its original checker print interior with black leather.
Take a look at the 1955 Mercedes-Benz 300 SL Gullwing above and head over to Dorotheum to place a bid.
For something more futuristic, Aston Martin unveiled the official images of its Valkyrie Hypercar.
Click here to view full gallery at HYPEBEAST
Toyota's freshly minted Corolla hatch, based on the hot new TNGA architecture, has been winning friends and influencing editors ever since we first clapped our eyes on it in March. We've since buckled in and strapped our gear on a few times and lauded the little hatch for its quantum-leapfrogging of its dreary Corolla iM predecessor. Sprightly dynamics and an upscale cockpit have drawn praise, while stingy rear-seat and cargo space drew raspberries. Those problems would seem to be easily solved by stretching the wheelbase (and rear leg environment) by 2.4 inches and grafting on a trunk. Yes, after testing out the tooling and letting the youth troubleshoot its hatchback for a few months, Toyota is now revealing the Corolla sedan for sale to everybody else starting in March.
Like the 2019 Corolla hatch, the 2020 Corolla sedan gets a broader stance, with its front and rear track widened by 0.5 and 0.9 inch, respectively, relative to the outgoing sedan. It also gets the hatch's new 18-inch aluminum wheels on top trim levels, with lesser trims making do with steel or alloy 16s. Following a trend that started with the Camry, the whole car stands a bit lower—the height comes down 0.8 inch, the hood sits 1.4 inches lower, and with it the cowl, beltline, and instrument panel each come down a bit. The driver even sits an inch lower and 1.6 inches further rearward. All of this helps lower the center of gravity by 0.4 inch, while thinner A-pillars improve outward visibility.
Other refinements include a huge new one-piece floor silencer pad to hush road and tire noise, and a clever stratified climate control system that can feed fresh dehumidified air to the greenhouse to prevent fogging while recirculating warm air lower in the cabin. A killer nine-speaker 800-watt JBL stereo is offered featuring the brand's Clari-Fi technology, which can analyze, rebuild, and restore audio details lost to compression.
The top powertrain offering in the SE and XSE models matches that of the sportier hatch—Toyota's new 2.0-liter port- and direct-injected engine featuring a lofty 13:1 compression ratio, electric cam phasing, and variable cooling and lubrication circuits. Here it produces 169 hp (1 more than in the hatch) and 151 lb-ft of torque and comes teamed with a six-speed manual (featuring new micro-polished gear teeth for reduced noise, hill-holding, and downshift rev-matching) or a CVT that uses a torque converter and a conventional first gear, which then hands off to the belt-and-pulleys system. Base L, LE, and XLE grades get an updated version of the last model's 1.8-liter engine in essentially what was its Eco trim, producing 139 hp and 126 lb-ft of torque. We're told the fuel economy improves, but no numbers have been shared yet. But the big news, fuel economy-wise, is the later arrival of a hybrid model. We'll learn more about its specifics in a few weeks at the L.A. auto show.
The sedan and hatch share most of what's forward of the B-pillar, with the notable exception of the sedan's two new fascia and grille designs. The Toyota sombrero moves up from its central grille location on the hatch to that little island of painted bodywork that sits forward of the hood on the sedan. The Avalon-esque dash carries over, complete with its 8.0-inch touchscreen featuring the Entune 3.0 infotainment system with Apple CarPlay and Amazon Alexa compatibility (sorry, no Android Auto yet). Base L models must make due with a less feature-rich 7.0-inch screen. Top models share the hatch's 7.0-inch digital instrument cluster speedometer display, while lesser grades get a 4.2-inch multi-information display flanked by analog speedo and tach dials. A full suite of connectivity features is available, including accident reporting, remote vehicle status reporting via phone app, onboard Wi-Fi powered by Verizon, and concierge services.
Continuing where the last-gen model left off and matching the 2019 Honda Civic, every 2020 Toyota Corolla will feature Safety Sense 2.0 gear as standard. This includes a radar- and camera-based pre-collision system that warns and brakes, adaptive cruise control (on CVT models it even handles stop-and-go traffic), lane-departure alert that will steer to prevent lane departure, or with the CVT, "Lane Trace Assist," which keeps the car centered in its lane. There's even auto-high-beam assist and Road Sign Assist to interpret and display speed limit, stop, yield, and do-not-enter signs.
The 2020 Corolla's predecessor placed a disappointing sixth out of seven compacts in a 2016 Big Test comparison. Many of us were underwhelmed by the 11th generation Corolla. This new car's TNGA bones, high level of standard equipment, and improved refinement seem poised to regain our respect. Once the new sedan arrives, we look forward to seeing whether its performance improves without overshadowing the practical strengths that have made the car a sales success for so many years. Of course, the proof of this rice pudding will be in the driving—and determining how eagerly its new and retuned engines can pull the skin off said pudding…
The post 2020 Toyota Corolla Sedan First Look: Civic's Prime Competition Is Back appeared first on Motor Trend.
Posted in

Automotive, MotorTrend
Comments Off

on 2020 Toyota Corolla Sedan First Look: Civic's Prime Competition Is Back
PUEBLA, Mexico — As I'm writing this, there's a question lingering in my mind: Why didn't Volkswagen go out with a bang by creating a truly special homage to the classic Beetle as a way of properly saying auf wiedersehen to one of its most treasured nameplates? Instead, it's sending the Bug off with a whisper in the form of the 2019 Volkswagen Beetle Final Edition.
This isn't the first time Volkswagen has produced a final edition Beetle for North America. A few years after introducing the New Beetle in 1998, production of the last of the air-cooled Bugs was marked by an "Última Edición" Beetle in Mexico. Then in 2009, Volkswagen revealed the 2010 New Beetle Final Edition at the Los Angeles auto show. But that wasn't the end of the line for the modern interpretation of VW's famed model thanks to the arrival of the current generation Beetle for the 2012 model year.
So is this the final Final Edition Beetle? Volkswagen has indicated as such, although according to the rumor mill an electrified Bug may be in the offing. One thing's for sure, given its steady sales decline it's clear that the Beetle will need to be completely reimagined if in fact VW does decide to revive it once again.
As production of the present generation Beetle starts to wind down, Volkswagen had us out to the factory where it builds them in Puebla during Mexico's Día de Muertos celebrations for a drive of the Final Edition models and a little celebration of its own. Appropriate, given that the Beetle will be muertos as of next summer.
But before I dive into my analysis of the 2019 Beetle Final Edition, I'd like to share some trivia with you:
When the Volkswagen Beetle was first introduced in Germany in 1938, it was almost called the "strength through joy" car, but later became known as "the people's car." Upon receiving a contract from Hitler to build a low-cost vehicle, Ferdinand Porsche designed the Beetle after the Tatra 97, which he was sued for and later settled. More than 20 million copies of the air-cooled, 1938-2003 Beetle model were sold worldwide—making it the most manufactured single design car of all time.
If thou shall ever make it to Jeopardy and any of this information deems to be helpful in winning a huge load of cash, don't forget about yours truly.
Alright, back to the review. For starters, the 2019 Final Edition Beetle is available in two trims: Final Edition SE and Final Edition SEL, and you can get it in either coupe or convertible flavors. Pop the hood and you'll find a 2.0-liter turbo engine with 174 horsepower and 184 lb-ft of torque that powers the Beetle lineup, mated to six-speed automatic transmission. The combination helps the car post solid EPA numbers of 26/33/29 mpg (city/highway/combined). A manual transmission option would've made the Beetle Final Edition a more thrilling proposition, but sadly those days are long gone.
The Final Edition SEL convertible, priced at $30,690 with destination, is the most expensive trim in the Beetle lineup. It features a premium package most other Beetle buyers will need to pony up $2,500 for that adds a Fender premium audio system, 6.3-inch touchscreen with navigation, Volkswagen Car-Net, Bi-Xenon headlights, and Nappa leather seats. But the best part of the package is its set of sweet, retro-style 18-inch wheels with white accents that add some personality.
Aesthetically speaking, other than the available rims, what makes the 2019 Final Edition Beetle more desirable than the rest of the Beetle lineup? Not a whole lot, unfortunately. Just for kicks I did a side-by-side comparison with a 2018 Beetle Coast model I drove earlier this year and they're almost identical. That said, there are a few unique exterior touches, including a Beetle badge which replaces the Turbo badge on the rear deck. There are also two colors exclusive to the Final Edition models that were inspired by the Última Edición: Stonewashed Blue Metallic and Safari Uni.
Inside, Final Edition refinements include a high-gloss black center console, a leather-wrapped steering wheel with an added "Beetle" badge, and stainless-steel pedal caps. To set the right mood at night there are three ambient lighting colors to choose from. Final Edition SEL models get the aforementioned, more upscale Diamond-stitched Nappa leather seats, though the Rhombus-pattern cloth and leatherette seats in the Final Edition SE are arguably as attractive. Final Edition SE trims and above also get a neat, throwback style glovebox known as the "Beetle bin," with an upward folding lid. Safety features standard on all Beetles include blind spot monitor, rear traffic alert, rearview camera, and a tire pressure monitoring system.
Out on the streets of Puebla, I sampled a Final Edition SE convertible and a Final Edition SEL coupe, but spent most of my time behind the wheel of the convertible.
As expected, the humble Beetle managed to keep up with the unforgiving drivers of Puebla and it survived the ever-changing road surfaces like a champ. In all seriousness, I invested more time dodging other drivers, which in my eyes is the ultimate driving test. Given that the Beetle is manufactured in Mexico, the friendly Bug was socially compatible with the rest of its family members on the road.
There's no point in driving a convertible with a top that goes down in 9.5 seconds if you aren't going to put it to good use.
We've known for a while that a new Porsche 911 is coming soon. Yes, the 991-generation 911 has been on sale since 2012, meaning it's about time for a redesign, but Porsche's also told us exactly that. In fact, earlier this year, Porsche even released official "spy shots" of the redesigned car. But when will we actually see it? The latest teaser, released as a video on Facebook, suggests it'll be very soon. Most likely coinciding with the Los Angeles auto show that starts in a few weeks.
If you've ever seen a 911 before, the video doesn't reveal much. Shadows obscure most of the car, with only the outline visible in most shots. But like the last time Porsche redesigned the 911, the biggest differences will probably be the way the car drives, not the way it looks. Besides, why would Porsche mess with such a timeless shape?
This teaser does, however, come only a few days after Porsche released a new set of photos showing the redesigned 911 undergoing endurance testing. Photos of what looks to be a completely undisguised car, by the way. If Porsche's releasing more teasers on social media, showing off the full car, and generally announcing that it's done hiding the new 911, you have to assume the reveal is close.
How close? We'd be willing to bet the official reveal will be right after Thanksgiving. Media days for the L.A. auto show start November 26, making that the most likely place for the new 911 to make its debut. Then again, keep an eye out. You never know whether Porsche will decide to reveal it early.
The post Next-Gen Porsche 911 Teased Once Again appeared first on Automobile Magazine.
This Saturday, fans of the now-defunct Bertone design house in Torino, Italy will have one last chance to buy parts, models, artwork, signage and even complete cars from the Italian design firm's warehouse.
The sale is projected to be the fourth and final auction for the remnants of Bertone, the first three auctions having already run their course following the Italian design firm's 2015 bankruptcy filing.
As one might imagine, the pickings are a little slimmer this time around, especially compared with the large amount of concept cars and full-size renderings available at past Bertone auctions. Nevertheless, there are still plenty of interesting items and cars to pique the interest of enthusiasts.
Among the offerings are many lots of memorabilia, including scale design models of the Lancia Stratos Zero and Lamborghini Countach, along with rarer concepts and prototypes such as the Alfa Romeo Pandion and Bertone Nuccio. There are also design sketches, trophies and auto show display items aplenty.
Need parts? There are two sets of brand new Lancia Stratos seats, a complete Lamborghini Espada V-12 engine and five-speed gearbox, plenty of various wheels (most designed by Bertone)  and various Ferrari F430 components removed from the production of Bertone's final concept, the Nuccio.
Cars available include Bertone designs—such as a 1980 Fiat/Bertone X1/9, a 1968 Fiat Dino Coupe, and a 1971 Alfa Romeo GT Junior 1300. Non-Bertone designs include a pair of Porsche 911s, a 2000 Audi S3 and a Mercedes-Benz 420 SL.
Were we to place a bid, it would have to be for the drafting table with a modified adjustment mechanism said to be favored (and possibly used in-period) by legendary Bertone stylist, Marcello Gandini , designer of the Lamborghini Miura and Countach, among many other automobiles.
The auction is being orchestrated by the Aste Bolaffi auction house and is scheduled for Saturday, Novemeber 17. Have a look through the listings yourself here.
The post Bertone Treasures Up for Sale in Final Bankruptcy Auction in Torino, Italy appeared first on Automobile Magazine.
Posted in

Automobilemag, Automotive
Comments Off

on Bertone Treasures Up for Sale in Final Bankruptcy Auction in Torino, Italy